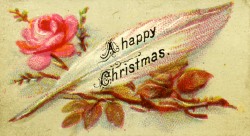 My father-in-law loved Christmas. He was known for saying that he tried to live as if it were Christmas every day. He meant that he tried to live with the joy and generosity that seem so abundant at Christmas. I do believe he succeeded at that, too. These days he's spending Christmas with Jesus, and I'm sure, enjoying every minute of it, but we still miss him and my mother-in-law as well.
He was also very proud of his Danish heritage and we observed some of the Danish traditions when celebrating Christmas with my in-laws. One of the traditions was to pull the Christmas tree out into the center of the room. Then we'd form a circle around it, join hands and sing Christmas carols while dancing around the tree.
The children loved the tradition of the "nut gift." After Christmas dinner, everyone received a dish of pudding. If we were going for authenticity we would have had rice pudding, but my mother-in-law always made chocolate. Good call on her part, in my opinion.
One of the dishes of pudding has a nut hidden in it. Whoever gets the nut receives a special gift. Usually the gift is candy or cookies. Once the gift was a beautiful and fragrant eucalyptus wreath.
I'm told that in Denmark, the nut game was played before the meal. During tough times, this caused guests to fill up on cheap rice pudding, allowing the hostess to get by with less of the expensive foods, like stuffed goose.
Whatever your family's traditions are, I hope you will have the opportunity to enjoy this Christmas and remember the awesome blessing we celebrate.
Merry Christmas,
Kara Lynn Russell
orchardhill.blogspot.com