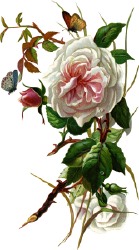 I'm Rose Ross Zediker, the author of "Through The Eyes of Love" a White Rosebud which should be released for the upcoming holiday season.
Why write an inspirational novel? Christians are urged to share the good news and what better way could there be to convey that message than through a story!
Usually to get going on a story, I find a piece of scripture and try to apply the scripture lesson to a real life plot line without "preaching the lesson". This approach may be related to writing devotions! I find that writing this way works two fold. I get to share the word of God with readers and as I peruse the scriptures and write my faith gets stronger too.